Glass Shelves
Glass shelves also have the advantage of allowing light to pass through them for a brighter look and a lighter feel. Unlike conventional shelving and cabinetry, glass shelves and cabinets don't intrude on the room space and make the area feel smaller.
We have a wide variety of styles and can easily cut any glass to perfectly fit your space. There are several options to consider when choosing the style of glass that will best fit the space that you'll be decorating. These include, but are not limited to:
Glass colors – We offer several different colors of glass to perfectly match your décor
Glass textures – Choose from patterns, frosted, or clear
Thickness of material – Material thickness from ¼" to ¾"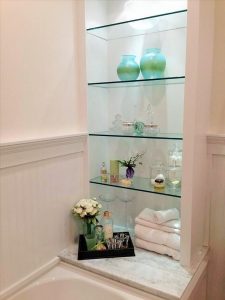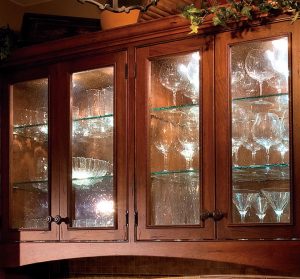 Art Glass
At Castle Glass, we understand how important it is for you home to be an expression of yourself. This is your opportunity to make a personal design statement with your appreciation of quality. Our glass inserts can be used in numerous applications including kitchen cabinets, china and display cabinets, bathroom cabinets, curio cabinets, decorative doors and windows.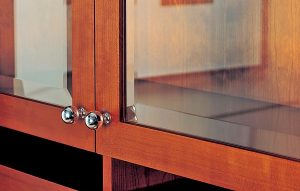 Bevel Glass
Beveled Glass is a mark of elegance in any presentation. We make it available as a glass cabinet insert, allowing your sophistication to shine.